Alex Smith
Alex from near Clay Cross was getting 2 buses and a lift to work every morning before he joined the Wheels to Work moped scheme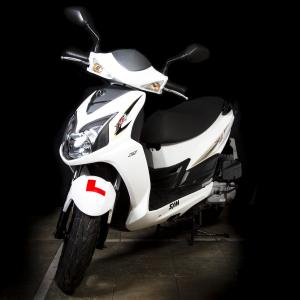 Alex* is a labourer and was having to refuse certain jobs because they were impossible or too expensive to get to. His weekly public transport journeys were costing him sometimes over £75 to get to Sheffield and surrounding area where his work is based.
Since coming on the moped loan scheme he now pays £25 a week for a 50cc moped to zip to and from building sites all over North East Derbyshire.
Alex said of his moped, 'tell you something, it's fantastic, like brand new and polished.' Now he is coming to the end of the 6 month loan period, Alex has managed to save enough money and secure a small Credit Union loan to buy the moped from us.
Therefore his involvement in Wheels to Work has contributed to him having a more permanent transport solution. Alex is full of praise for the scheme, and kindly agreed to participate in our recent external evaluation of Wheels to Work Derbyshire.